Facts









WHO HAS BEEN IN MY GARDEN?!!!






..................................................
Follow in Your Footsteps!
When a bullfrog scuttles across your garden, the marks he'll leave will look like the ones above! They aren't really footsteps though, they're more like - belly and toe marks! Look for them near wet marshes, ponds and streams wherever frogs are common!





..............................................
Say "AAAAHHHH!"
Some frogs have tongues that are long and sticky that can be used to catch bugs. These roll out like an upside-down party horn and snap at the bug! (YUMMY!)
Frogs with long tongues go by the "see it, snap at it" technique of feeding. Toads, on the other hand, like my firebellied toads, have tiny tongues and have to snap at their food using their mouth. They often will stalk their food, much like a cat...creeping up to it and then just as dinner is about to take off, they will *SNAP* and eat their meal!
DID YOU KNOW: When a frog swallows a meal, his bulgy eyeballs will close and go down into his head! This is because the eyeballs apply pressure and actually push a frog's meal down his throat! *GULP*
.....................................................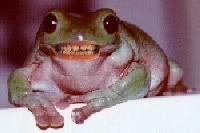 CHOMP, CHOMP, CHOMP
........................
DO FROGS HAVE TEETH?
Actually, yes! But not like in this silly picture!
Most frogs do in fact have teeth of a sort. They have a ridge of very small cone teeth around the upper edge of the jaw. These are called Maxillary Teeth. Frogs often also have what are called Vomerine Teeth on the roof of their mouth. They don't have anything that could be called teeth on their lower jaw, so they usually swallow their food whole. The so-called "teeth" are mainly used to hold the prey and keep it in place till they can get a good grip on it and squash their eyeballs down to swallow their meal.
Toads, however, do NOT have any teeth.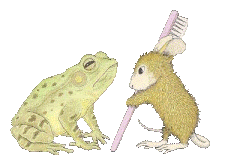 .........................................
...............
FROG FEET
...............
FEET FOR CLIMBING
Tree frogs have sucker-like adhesive disks, or Sticky pads, which aid in climbing, on the tips of the fingers and toes.
This image is of an AustralianTreeFrog.
WATER ANYONE?
..........................................
FEET FOR SWIMMING
Aquatic Frogs like the African Dwarf Frog and the African Clawed Frog, have webbing between their toes that aid in swimming. You can test how much this helps by the following little experiment:
1. First, try spreading your fingers and running them through a tub of water.
2. Now, get a plastic sandwich bag and place it over your hand.
3. Spread your fingers and NOW try running it through the water. This adds a lot of swimming power!

WHERE DID ALL THAT DIRT COME FROM?
........................................
FEET FOR DIGGING
Frogs that burrow into the sand to keep moist in the heat have stubby clawlike fingers that are adapted to digging.
UP WE GO!!!
.........................
FEET FOR FLYING!
Some frogs in the Rhacophorus species, such as R. reinwardtii and R. nigropalmus, have parachute-like webbing on their hands and feet which act as an air-brake when they glide from tree to tree or leaf to leaf. These frogs are known as "Flying Frogs."

Try this little experiment to see how webbing helps:

1. First, take 2 pieces of paper, both the same size.

2. Now, spread out one paper flat and drop it. Notice how it takes a while to float to the floor.

3. Take the second piece of paper and crumple it into a little ball.

4. Drop the crumpled paper from the same height as the first paper. Notice how much faster it falls.

Without the extra webbing, a falling frog would go *SPLAT!*

LEAPIN' FROGGIES

Frogs are one of the best leapers on the planet! Did you know that frogs can launch themselves over 20 times their own length using those big strong legs of theirs? That would be like if you could jump 100 feet!

The average flea can jump up to 150 times its own length. A kangaroo can leap about 4 1/2 times it's length. Elephants can't jump at all!

As far as I know, the longest frog jump on record measured 33 feet 5.5 inches. It was made by a frog named Santjie at a frog derby held in South Africa.

&..............................
SING TO ME BABY! ...Ribbit!
Some frogs, like the Squirrel Treefrog have vocal pouches that vary in size and stretch like balloons. These sacs serve as a resonating chamber, allowing the frogs to SING! Male frogs vocalize by squeezing their lungs with their nostrils and mouth shut. Air flows over their vocal chords and into their vocal sacs blowing it up like a bubble gum balloon! Other frogs can make noises without such a sac like the Oriental Firebellied Toads.

For some species of frogs, only the males sing. Other types of frogs appear to have both male and female calls. Large frogs have DEEP voices, meaning they call at a low frequency. Small frogs sing in high chirps, meaning they call at a high frequency. Cold frogs repeat their calls at a slower rate because the muscles controlling the sounds slow down!



Why do frogs sing? Well...it's actually for a variety of reasons!

Sometimes, frogs sing when they are trying to attract a mate. "HEY! Baby!"

Sometimes, frogs sing to mark their territory. "This is MY Lilypad!"

Sometimes, frogs sing becasue they know the weather is going to change. "Rain!!!"

Sometimes, frogs squeek when they are frightened or hurt. "Ouch! Eek!"

What sound does a frog make in YOUR language? Here is a list of some of the different ways people think frogs sound around the world!

Afrikaans: kwaak-kwaak
Arabic (Algeria): gar gar
Catalan: cruá-cruá
Chinese (Mandarin): guo guo
Dutch: kwak kwak
English (USA): ribbit
English (GB): croak
Finnish: kvak kvak
French: coa-coa
German: quaak, quaak
Hebrew: kwa kwa
Hungarian: bre-ke-ke
Italian: cra cra
Japanese: kerokero
Korean: gae-gool-gae-gool
Russian: kva-kva
Spanish (Spain): cruá-cruá
Spanish (Argentina): berp
Spanish (Peru): croac, croac
Swedish: kvack
Thai: ob ob (with high tone)
Turkish: vrak vrak
Ukrainian: kwa-kwa
.........................

FROG ENEMIES!
Frogs have to watch out for all kinds of enemies in the wild. There are a wide variety of frog predators. Animals that eat frogs for snacks include snakes, lizards, birds, and various small animals like hedgehogs. Even under water frogs cant be safe from hungry sharp toothed fish, swimming mammals like water shrews, and even diving birds! As if that wasn't bad enough, frogs even have to watch out for other hungry frogs!
Because there are so many bad guys to watch out for, frogs and toads have come up with a large variety of forms of protection. The largest enemy that frogs have isn't something as easily adapted to: Pollution! Frogs are becoming particularly important as factors in measuring the health of the global environment and in tracking how much ultra-violet light gets into our atmosphere. For some years now, it has been noted that worldwide frog populations have been in the decline. Many species are on the verge of extrinction, while others are thriving well. Only recently has this frog population change been linked to not only a decrease in upper atmospheric ozone layer, but also an increase in low-atmosphere ozone due to pollution.
Here's a FACT: Frogs in the environment are a true sign of a well balanced ecosystem!

.......................................

POISON GLANDS
Toads often have puffy looking pockets called paratoid glands located behind the ear that squirt poison at potential predators. So, if you've ever hear a dog "scream" after picking up an American Toad, now you know what happened!
Although frogs have poisonous skin glands, these toxins do not usually protect them from predatory mammals, birds, and snakes. Edible anurans have to rely on more than just poison glands which tend to work too late (i.e. after the predator has it in his mouth!)
...............................

HIDE AND SEEK
&Many frogs rely on the art of camouflage to avoid getting spotted by predators. Some blend with their backgrounds, while others even change colors to match the backgrounds!
.................................
ADVERTISING A WARNING!
.................................
PRETTY = DEADLY!
Many frogs are so poisonous that they can afford to flaunt their colors! They are very bright because most animals know that eating a colored frog like this would be deadly! Some frogs and toads rely on a combination of camouflage and poisons.
For example, the Oriental Firebellied Toads are well camouflaged when seen from above by having black and greenish spots all over their backs. They look just like the types of mosses frequently found in the streams where they are usually found. But when startled on land, they often will raise the head, exposing their bright orange bellies! When the toads are "freaked out" they secrete a poisonous film that can make you sick. The color on their tummies signifies poison!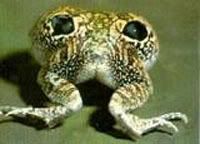 FOOL YOUR FRIENDS!
The Chilean Four-eyed frog has a pair of eyespot marks on its rear end. They are really big poisonous glands with spots on them, but it looks like eyes when you look at them from behind. The spots usually are covered by the thighs when the frog is sitting, but when it feels any threat, it will expose the "fake eye spots" and cause them to swell up a bit, which (hopefully for the frog) will fool the predator into thinking that he is bigger and meaner than he really is!
JURASSIC FROG
The earliest known frog appeared during the late Jurassic period, about 190 million years ago! Scientists believe that the oldest frogs developed jumping legs to avoid being eaten by dinosaurs.
Specimens on the first known frogs have been found on Navajo Indian reservations in Arizona. Fossils of meat-eating fish and reptiles such as dinosaurs have also been found at the same site. These fossils show that the skeletal shape and body plan of the frog has remained almost unchanged over the last 190 million years. In addition, frogs had the added advantage of being small enough to be able to hop away to avoid the many predators which habitated its surroundings."





Frogs
Home