Radio
...........





.......




.......




................................


......................................................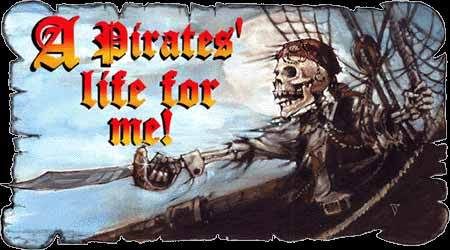 ..............................................................................................
What Happened Before...
John Mark Williamson, a native of the notorious pirate hideaway Saskatoon Isle, had won a ship of his very own in a late night card game against an intoxicated brigand named Smit. Shortly after, John proclaimed himself Captain of his first ship, which he dubbed "Jolly Dodger". Eager to find a worthy crew and begin his adventures, he found himself swamped with men begging to join his crew. He met William Tad, who proved himself worthy of being First Mate after helping John win a duel against a bitter Smit and his cohorts. The two became friends, and affectionately referred to each other as "Johnny" and "Bill". Soon, they had chosen what they believed to be a good crew, and prepared to set sail.
Unfortunately, Smit and a local friend named Hugh had stowed away on the Jolly Dodger, and attempted to sabotage the voyage. What was to be a great adventure became a paranoid horror, as crewmen either disappeared or were found dead or dying. Smit and Hugh seemed to strike unseen, and escape into the lower decks of the ship without a trace. The mystery began to unravel as secret passages and false bulkheads were discovered, but Captain John was not pleased. How and why were those passages made? Who was Smit? John was nearly fated never to know, were it not for the surprising incompetence of Hugh, who had imbibed far too much of a dangerous drink he had stolen from the galley on his last excursion with Smit. Rendered unable to move without great pain, he unwittingly revealed his hiding place behind a false bulkhead. His confessions to the Captain led him to Smit's secret room on the ship, where the disgraced ex-captain had hidden his great wealth and instruments of assassination. Not long after that, Smit himself was found, and in a death duel against Captain John, it was revealed that Smit was an elite member of a dreaded pirate assassin gang known to many as the Dark Stingers. This revelation drove Hugh into a vengeful rage, as he never knew Smit was a Dark Stinger, and the gang was responsible for the death of Hugh's father. Intending to avenge his father on Smit, Hugh battled the assassin only to die with him as both were thrown overboard in their combat.
The Jolly Dodger was now safe. But for how long? John's nights were sleepless ones, as he thought of his lost crewman, and was troubled with nightmares of scorpions attacking him, a fabled omen of a soon-coming assassination by the gang. And it came, in the form of another pirate captain, Captain Perry of the Iron Fist. Perry had met John once before in unusual circumstances, as he had fought the young Captain in a tavern on Saskatoon Isle over a petty insult. Perry himself was not a member of the Dark Stingers gang, but was subservient to the gang because he had been trapped in a "protection deal" of sorts over the life of his crippled father, who was hidden from him by the Stingers to force the deal. Weary of doing the Stinger's dirty work, Perry had tried to escape the job, but was in the end forced to plant two of his own men named Sam and Dave on the Jolly Dodger to attempt an assassination. For John, it was like reliving a dreadful nightmare, as once again his crewmen began to vanish or die in suspicious circumstances. They were not the targets of the assassins, but in one way or another had stood between them and their goal of killing Captain John. Their delay in finishing the job was too long for the Stingers, so they sent an agent named Syke to pressure Perry with threats against his ship, his life, and his father. With no patience for Perry's excuses, Syke pursued John's ship with a hired ship called the Silent Hunter to finish the job, forcing Perry to come along. Along the way, a despondent Captain Perry attempted to escape his predicament by severing his ship's anchor during a sea storm to escape the Silent Hunter. This proved futile, as they soon found Perry's trail, intending to kill him with Captain John. Perry's ship found the Jolly Dodger first, and in a fit of poor judgement under immense pressure, Perry made one final attempt to kill John with the aid of Sam and Dave, who as yet had still failed to achieve their mission. Perhaps if Perry could succeed, he would satisfy the Dark Stingers and escape with his life. Perry dueled with John as the Iron Fist began to attack the Jolly Dodger, but the battle was cut short by the arrival of the Silent Hunter. John and Perry were forced to ally to stop the murderous gangsters, at significant loss to both Captain's crews. The ensuing naval battle resulted in the Silent Hunter retreating because of heavy damage, even though its captain and Syke had boarded the Jolly Dodger and engaged John and his men in a bloody duel. The Silent Hunter's captain fled overboard after receiving several wounds, and Syke escaped on a rowboat. Perry and John were left to tend to their stricken ships, and they chose to make landing at nearby Ghost Isle, a mysterious foggy place that was supposedly haunted by the spirits of others who landed there and never left.
The story continues on this Isle of mystery. Will the two Captains find good fortune on the island, or more horror? Are there really ghosts here? And what of the Stingers? Could they be on the island too? No one could know.
................................


Home