Son




Son
, Chris, age 2 yrs during an I.D program held by the local police department. He wasn't very happy with having his picture and fingerprints taken! The officer who took the photo, said that he really didn't want to make Chris angry as he had a look that he would like to hit someone and, very hard at that! They were all laughing at his expression!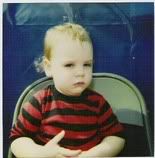 What Are Little Boys Made Of?
Boys are mad of chuckles & grins,
Tousled hair and banged-up shins,
Things with wheels & frogs in pockets
Questions, baseball caps, & rockets;
They're joy & mischief, fun & noise-
That's how it is – boys will be boys!
Son
, Chris, first school picture in kindergarten, priceless facial expression! I couldn't have asked for a better first school picture!

..........



F A M I L Y
I ran into a stranger as he passed by,
"Oh excuse me please" was my reply.

He said, "Please excuse me too;
I wasn't watching for you."

We were very polite, this stranger and I.
We went on our way and we said goodbye.

But at home a different story is told,
How we treat our loved ones, young and old.

Later that day, cooking the evening meal,
My son stood beside me very still.

When I turned, I nearly knocked him down.
"Move out of the way," I said with a frown.

He walked away, his little heart broken.
I didn't realize how harshly I'd spoken.

While I lay awake in bed,
God's still small voice came to me and said,

"While dealing with a stranger,
common courtesy you use,
but the family you love, you seem to abuse.

Go and look on the kitchen floor,
You'll find some flowers there by the door.

Those are the flowers he brought for you.
He picked them himself: pink, yellow and blue.

He stood very quietly not to spoil the surprise,
you never saw the tears that filled his little eyes."

By this time, I felt very small,
And now my tears began to fall.

I quietly went and knelt by his bed; "Wake up, little one, wake up," I said.

"Are these the flowers you picked for me?"
He smiled, "I found 'em, out by the tree.

I picked 'em because they're pretty like you.
I knew you'd like 'em, especially the blue."

I said, "Son, I'm very sorry for the way I acted today;
I shouldn't have yelled at you that way."
He said, "Oh, Mom, that's okay.
I love you anyway."

I said, "Son, I love you too,
and I do like the flowers, especially the blue."

Son
, Chris, 4th grade project when his class was studying mining and panning for gold and his 4th grade school picture.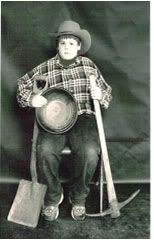 .................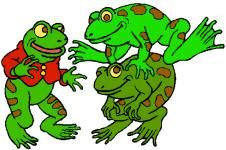 This is Chris in his most recent school picture.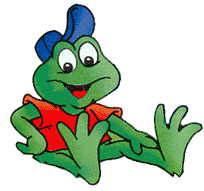 Little boys, lots of noise,
Scattered toys, lots of joys.
A kiss and a hug, a spill on the rug,
In their pockets a frog or a bug,
They give your heart a tug.dirty face, untied shoe lace,
Running at a hectic pace,
Not a minute to waste.
Dirty chothes, sun burnt nose,
Stubbed toes, playing G.I. Joes.
Toy cars, monkey bars,
Lightening bug in fruit jars,
Lay in the grass, look at the stars.
Asleep at night, eyes shut tight,
All in their world is right,
Their dreams are sunny and bright.
Little boys.





froggy
family

Home