grandkids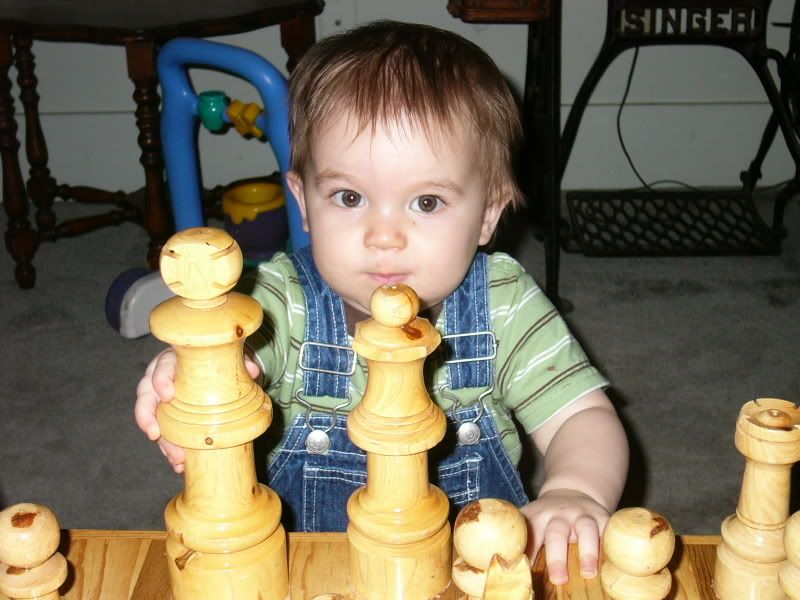 This is my first grandson, for whom I am extremely proud of, at 10 months old. Looks pretty intense to me, but is actually a joy to be around. Watch out Bobby Fisher!
In March of 2009, I watched him set up this same chess board with his father. His father laid out the pieces on the side and would pick up a piece and ask Erik, "What is this?" and Erik would respond with the correct name (knight, bishop, pawn...etc.) and then his father would ask, where does it go and Erik would point to the proper place to set it on the board. He did this for all the pieces. May not seem like anything astonding to you, but Erik is 2 years 10 months old... and he knows the names of the chess pieces and their placement. He sort of understands how they move... but hasn't quite got that down. As his grandfather... I am totally impressed and excited about it! I will have to charge the batteries on my movie camera and go through this with him again soon!
At about 21-22 months old. He has that look like he didn't want his picture taken...AGAIN!
He's now at the age of using full sentences and able to discuss things. It is hard to pull the wool over his eyes anymore! Precious moments that will slip into the past soon enough.
He just turned 3 a month ago. his birthday is in Mid May. These pictures are when he turned two.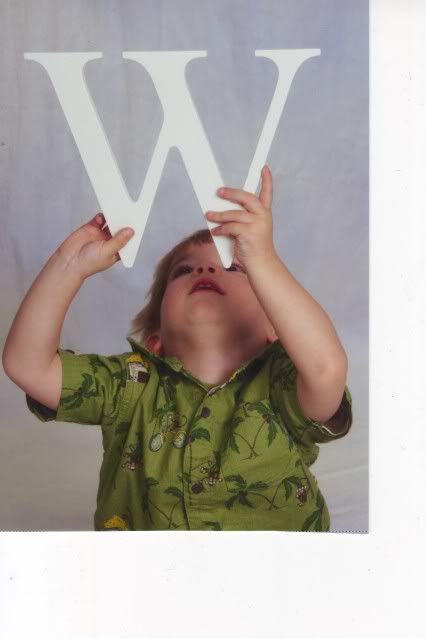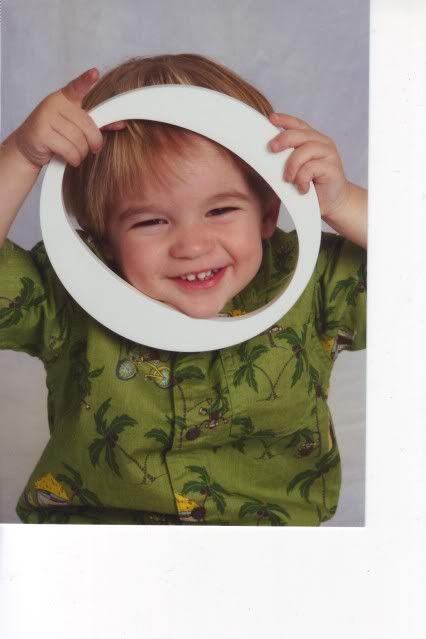 And what does that spell? Our two year old grandson!
His new baby brother arrived in May of 2008.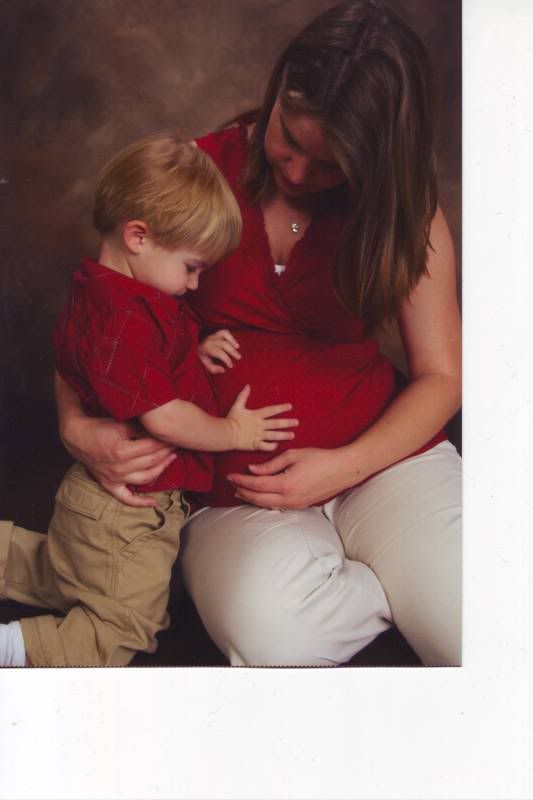 He did understand what his brother was... and he is a very loving brother wanting to hug his baby bro all the time, even a year later. Ryan also loves his older brother and wants to follow him everywhere.
I could go on and on about all the things he does now that we just love. I was trying to get a taping of him saying watermellon... it's was a riot - sadly, I was unsuccessful.
He also got a play guitar for his birthday and he tries to dance to the music...which is also a riot. These are the moments we enjoy the most. He knows he is funny, but he isn't being a ham about it...he is just enjoying life!
Within a week of his second birthday, our little guy was doing his flinging arm dance at his house and was wearing a brand new pair of PJ's, when he stepped on his own other foot and tripped. He put a hairline fracture on his right tibia. After trying to walk on it for a couple days (my daughter thought he just sprained his foot), they took him to the doctors. That's where they xrayed the leg and told them what happened. Because he is two and does not understand stay off it, they put a full leg cast on it. He had it on for two weeks, it was taken off the first week of June. They saved his "green" cast. It broke our hearts watching him try to move around the first couple days, but he got use to it in no time and was walking within 4 days. During this time, Ryan was born. My daughter and her husband sort of had their hands full with a new baby and a baby in a cast... but they did great!
6 weeks later things were back to normal with August of 08' just around the corner.
He's playing Hide and Seek with his cousins. This is him! I guess if you can't see his eyes, he's hidden! The desk was missing the drawers - the perfect hiding place!
On August 1st, 08' we went with his mom and dad and played miniature golf. I think we forget as parents these precious moments. He is just a little over 2... he does not understand rules! By the second hole of a 9 hole course, he knew what he had to do. After the first ball was hit, he helped. When the second ball was hit, he would run over and pick it up and go and drop it in the hole. We all had great scores except his mom, who was carrying Ryan in a chest "backpack"... she was really hitting the ball wrong on the first stroke and Erik wasn't helping her as much.... I think Grandpa was trying to make sure of that! lol
When all was said and done, Erik had a score of 18 for a par 20 course! He even had a legit hole in one (with grandpa helping him with his stroke). He beat us all! But he sure helped almost all of our scores!
And I think that he would love to be a pirates someday!

Born in May of 2008, Ryan has become a member of our family and we are proud to present him to you.
It is now over a year since he was born and he is walking, running and trying to talk.
We have a family discussion going on about the second born. It is funny, that with Erik, our hearts and minds were his from birth to now. With Ryan, though we love him to pieces, our attention goes to Erik. Erik talks, walks, listens, reasons... he is a living, moving person and is so adorable. Even his mom and dad says that though they love him, he is not Erik. And I think that is normal.
With us, our second child was a boy, while our first was a girl; so we just grew with both... but with two kids of the same sex... sorry Ryan, you sort of are judged by the first born.
I obviously have more current pictures of him, but I just have not had the time to transfer them to photobucket and then access them here... I would say soon, but soon never seems to get on my calendar!