Poems


.......................................




Frogs in chorus
The chorus frogs in the big lagoon
Would sing their songs to the silvery moon.
Tenor singers were out of place,
For every frog was a double bass.
But never a human chorus yet
Could beat the accurate time they set.
The solo singer began the joke;
He sang, "As long as I live I'll croak, Croak, I'll croak,"
And the chorus followed him: "Croak, croak, croak!"

The poet frog, in his plaintive tone,
Sang of a sorrow was all his own;
"How shall I win to my heart's desire?
How shall I feel my spirit's fire?"
And the solo frog in his deepest croak,
"To fire your spirit," he sang, "drink coke, Coke, drink coke,"
And the chorus followed him: "Coke, coke, coke!"

The green frog sat in a swampy spot
And he sang the song of he knew not what.
"The world is rotten, oh cursed plight,
That I am the frog that must set it right.
How shall I scatter the shades that lurk?"
And the old man bullfrog sang, "Get work, Work, get work,"
And the chorus followed him: "Work, work, work!"

The soaring spirits that fain would fly
On wings of hope to the starry sky
Must face the snarls of the jealous dogs,
For the world is ruled by its chorus frogs.




Plum's Destiny
A little plum dropped from the tree
and struck a frog upon his knee.
The frog did hurt and cried a lot
the plum said Oops, I plum forgot.
Which wasn't altogether true
you see a plum is always blue
a frog however must be green
thus he can easily be seen.
So, folks, it truly stands to reason
that in the Fall, the ripening season
a bit of care would be advised
that way a frog is not surprised.
In any case, the knee did swell
the plum just stayed right where it fell,
so in an effort now to heal
the frog fell for the plum appeal.
He grabbed the plum and opened wide
the plum prepared for its last ride.
And said before it was too late
a plum is to be eaten, mate.
So, you can see that those that fall
from trees or buildings, big and tall
will usually just fail to see
the maker of their destiny.




Frog Logic
Tell me is it fun to go to the beach
When the sky is all sunny and blue
Or go for a ride on a bicycle
Like millions of people do
And what is more fun on a warm sunny day
Then a friendly romp with a dog
Well I really don't know cause all I've been told
Is, its jolly to be a frog

Well they tell me that fun is the color of red
And that dreams are all gold and blue
And of all the hours there are in a day
Each one is a different hue
But wherever I go or wherever I've been
It's always the same old scene
Cause being a frog makes it different you know
It's always the same old green

But with all of your worries and all of your cares
You keep running round in a fog
So, I'll stay in this pond
And I'll tell the whole world
It's jolly to be frog!




The Famous Robert Rupert (Children's Poem)
One day while I was walking with Rusty...that's my dog, we discovered something magical hidden in a hollow log.

It was Rusty who really found it first while sniffing like he does, I'm sure you won't believe it when I tell what it was.

On an ancient sheet of parchment a story did unfold, about two special people and here is what it told.

There once was a castle maiden held against her will, her days were spent in sorrow sitting at her window sill.

She dreamed a handsome prince would come and take her far away, At night she'd go to bed and think tomorrow is the day.

Then one day, while strolling through the gardens all alone, she saw something she thought looked like a water-lily home.

She bent down near the water's edge so a closer look she had, and sure enough it was a house made from a lily-pad.

She gently tapped upon the door with just her fingertips, what happened next brought such a smile to the castle maiden's lips.

For just inside the tiny door she saw a tiny log, and on the log sat very still the cutest little frog.

"Well hello there, " she said to him"and what would be your name? "He said "I'm Robert Rupert and I'm mighty glad you came."

"You see I used to be a handsome prince now look what I've become...because I drank a potion made from water-lily rum."

"But I've heard it said from those who know that I can change from this, if I can find a pretty maid to give me just one kiss.

"Without a second thought she bent and closed her eyes, and kissed him once upon the lips then came the big surprise.

He didn't change into a prince sitting on the log, but she herself had now becomea pretty little frog.

Now you might think that she was mad but no, that's not the case, because she knew she was free at last from that awful castle place.

So now you've read this fabled tale there's a lesson here behind it, Never give up your hopes and dreams and love is where you find it...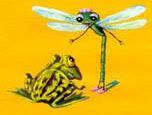 Dragonfly Romance
One warm summer afternoon I came upon a placid pond by chance.
Ripples made by graceful dragonflies in their ritual dance
Bluish green and flashy white
their flitting wings of sudden flight
that dart so low and high
Seated on a stump I watched
The mating dance of the dragonfly
Crickets in the background frogs and chirpy birds
Create the most pleasant rhythm
That nature ever heard
The timing and natural music also the fancy dance
Nature's stage was set for a dragonfly romance
Dozens of young dragonflies all in a row
Croaky frogs and lazy turtles ready for the show
Dainty missy dragonfly sitting on a log
To inattentive to zip away falls prey for a hungry frog
Lily pads with bulbs of whitish pink and yellow
Mamma dragonfly very lady like flits from flower to flower
Then here comes daddy dragonfly always on the scent
He took mamma dragonfly away
I do not know where they went
It was all such a marvelous sight
I came back again one day
And there I saw a hundred brand new baby dragonflies
Playing on the lily pads as I paused along the way
Mamma and daddy dragonflies bright smiles on their faces
And twinkles in their eyes snugly sitting on a branch
Signaled that this was the final act
of the dragonfly romance




Frogs
Home