Now
You and your friends have decided to go out trick or treating to waste a little time before the party you have all been invited to begins. You aren't even asking for treats, but just want to show off your funny costumes as you go from house to house laughing and having a wonderful spooky time. As you approach the last house on the block, you notice that the night has turned dark and stormy with a real threat of rain approaching in the distance. Suddenly, without warning, the sky lights up as lightening flashes! The lightening flash is so bright, that you are all temporarily blinded...
As your eyes slowly adjust to the once again dark night, the hair on the back of your neck starts to rise as you realize you are alone. Your friends have disappeared and you are no longer standing in front of the house at the end of the block...
To begin your journey, take this candle and be careful it doesn't go out...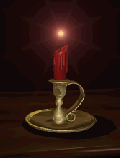 haunted_hotel